Mars Hydro FC 6500-Evo Samsung LM301H Evo 730W Smart Led Grow Light for Commercial Cultivation


Veg Footprint: 6' X 6'

Flower Footprint: 5' X 5'

Watts: 730W

Spectrum: Full

Warranty: 5 Years
Samsung LM301H EVO Chip
The Samsung LM301H EVO diode excels as a top horticultural light source, boasting 3.14 μmol/j efficiency. Emitting a plant-centric spectrum, it supports physical and nutrient growth. The FC 6500-EVO offers exceptional efficacy for photosynthesis, bioactives, plant quality, and energy savings.
Professional LED Grow Light
Mars Hydro FC 6500 employs Samsung LM301H EVO diodes for outstanding results. With 730W consumption and 2.9 μmol/j PPE, it's perfect for personal and commercial use, especially vertical farming.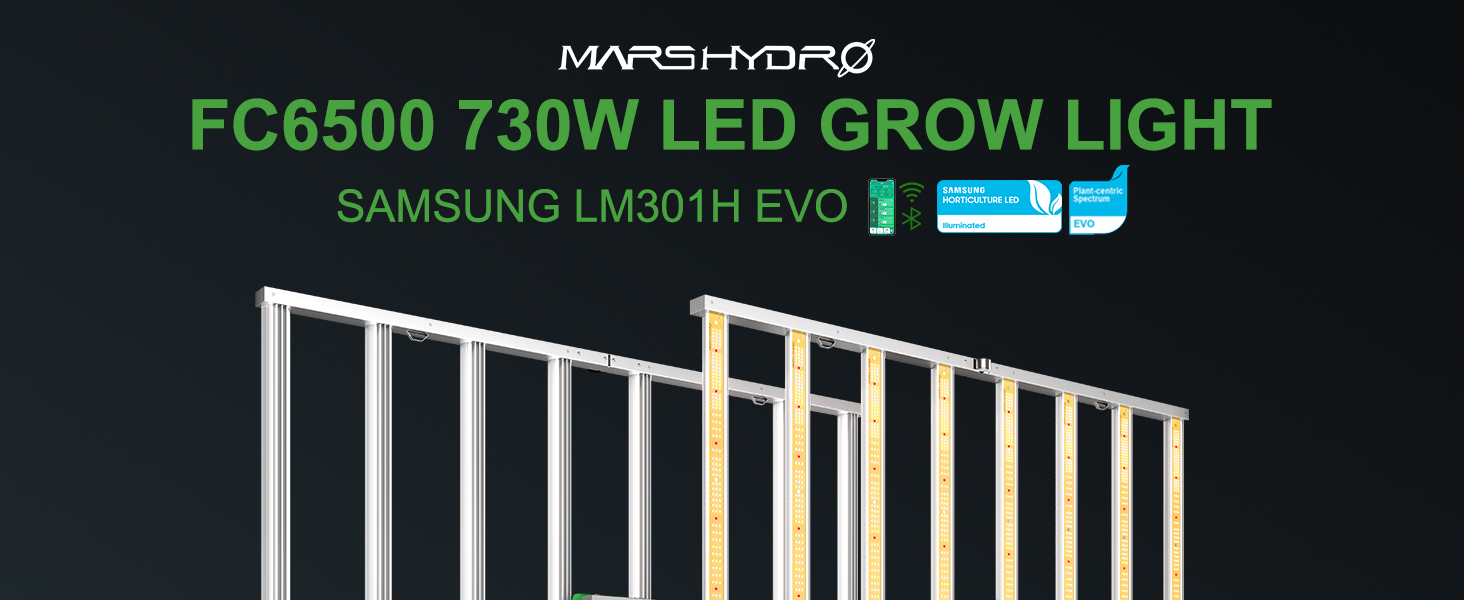 High PPFD and Uniform Distribution
Smart FC 6500-EVO provides an impressive up to 2182 μmol/m²/s PPFD, excellent for commercial cultivation and improved flowering. Scientifically optimized chip arrangement ensures even light distribution without hotspots.
Rich Full Spectrum Light
FC 6500-EVO's unique spectrum blend combines blue, red, and green light for optimal plant growth. Blue stimulates veg growth, red accelerates maturation, and green ensures penetration.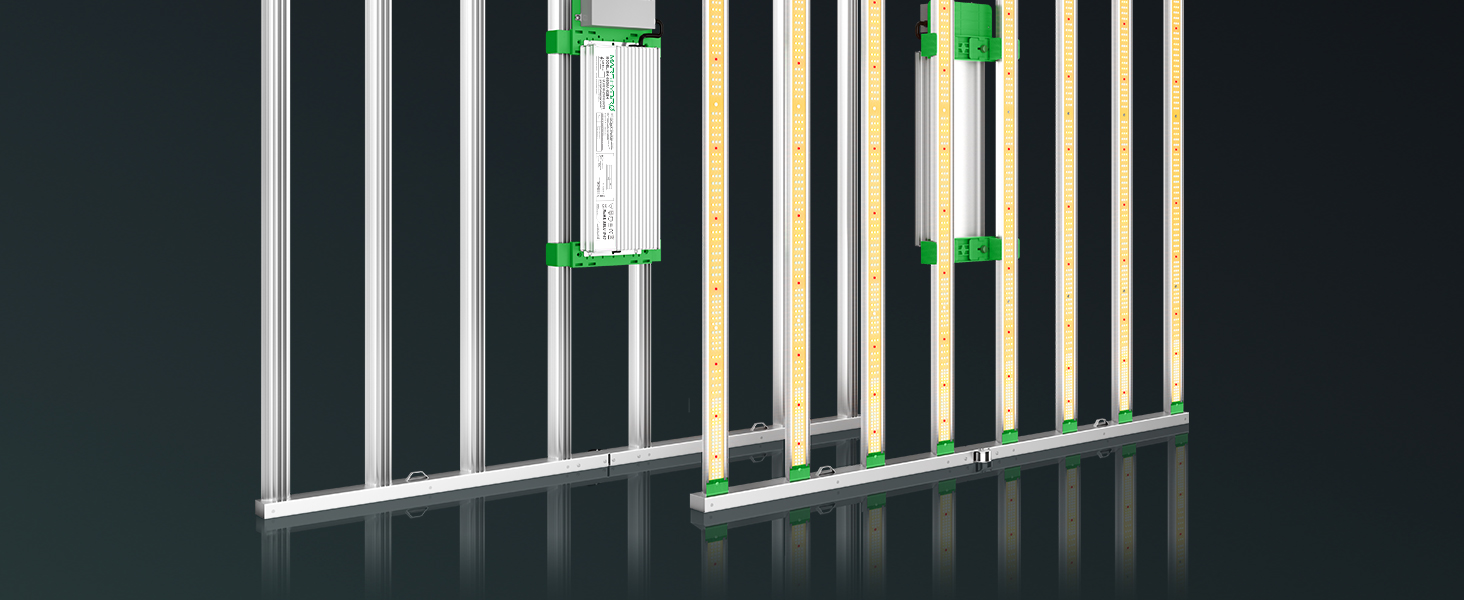 Smart Grow System Integration
Connect via Mars Hydro APP for remote control and data transfer. Easily manage and schedule FC 6500-EVO from anywhere, ideal for busy or commercial growers.
Precision Auto-Dimming
Fine-tune auto-dimming by year, month, day, hour, and minute for customized light intensity. Sunrise & Sunset Simulation replicates natural photoperiod for advanced personal growth.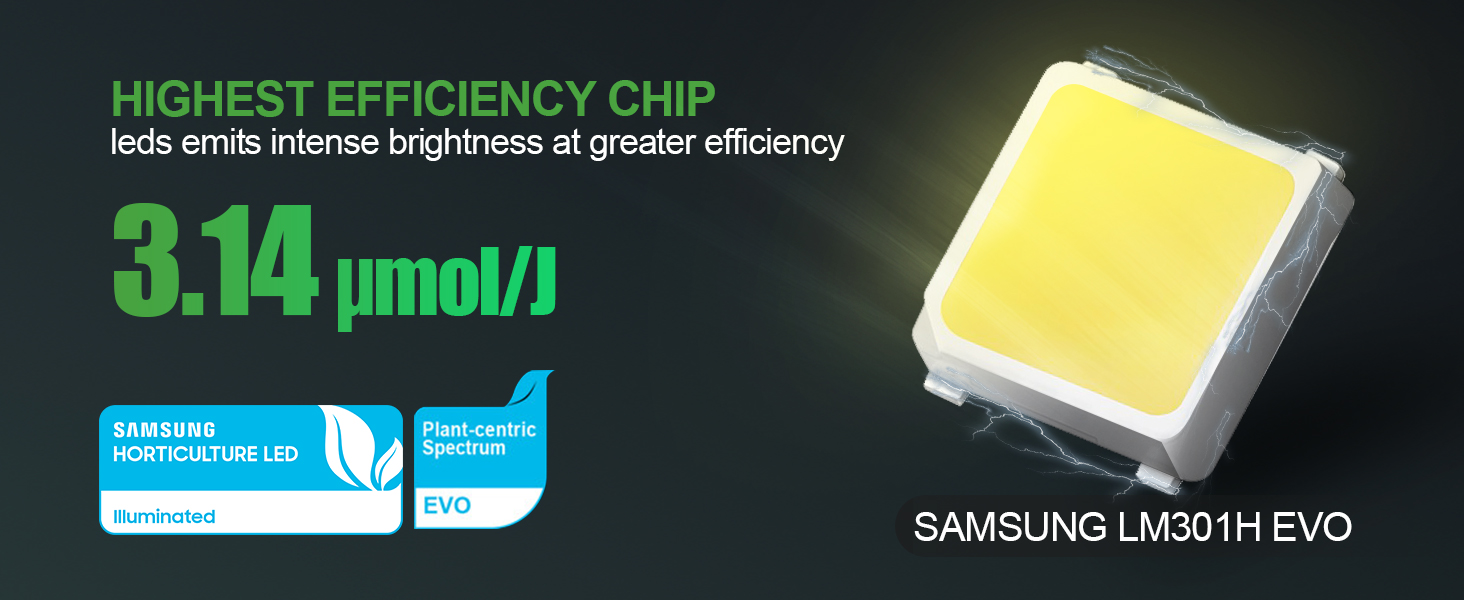 Efficient Heat Dissipation
Wave-shaped heat sink ensures rapid heat dissipation. Multi-bar design with cooling spaces prevents hotspots, maintaining reliable light operation.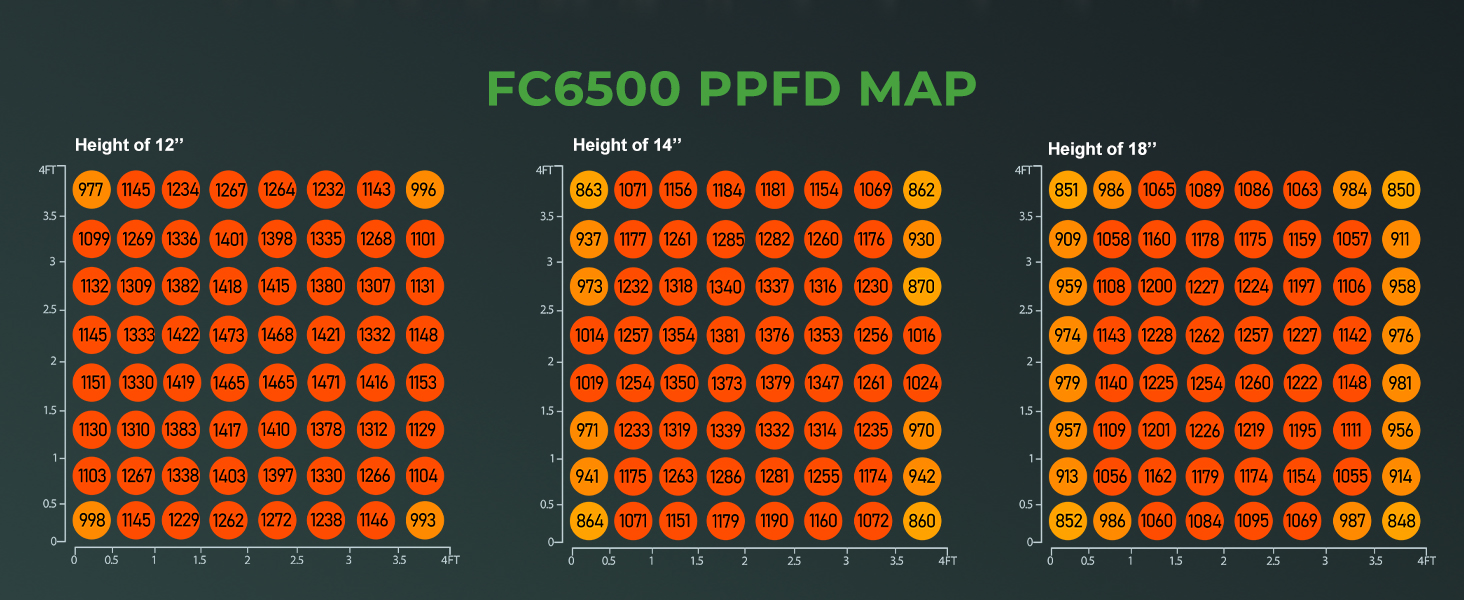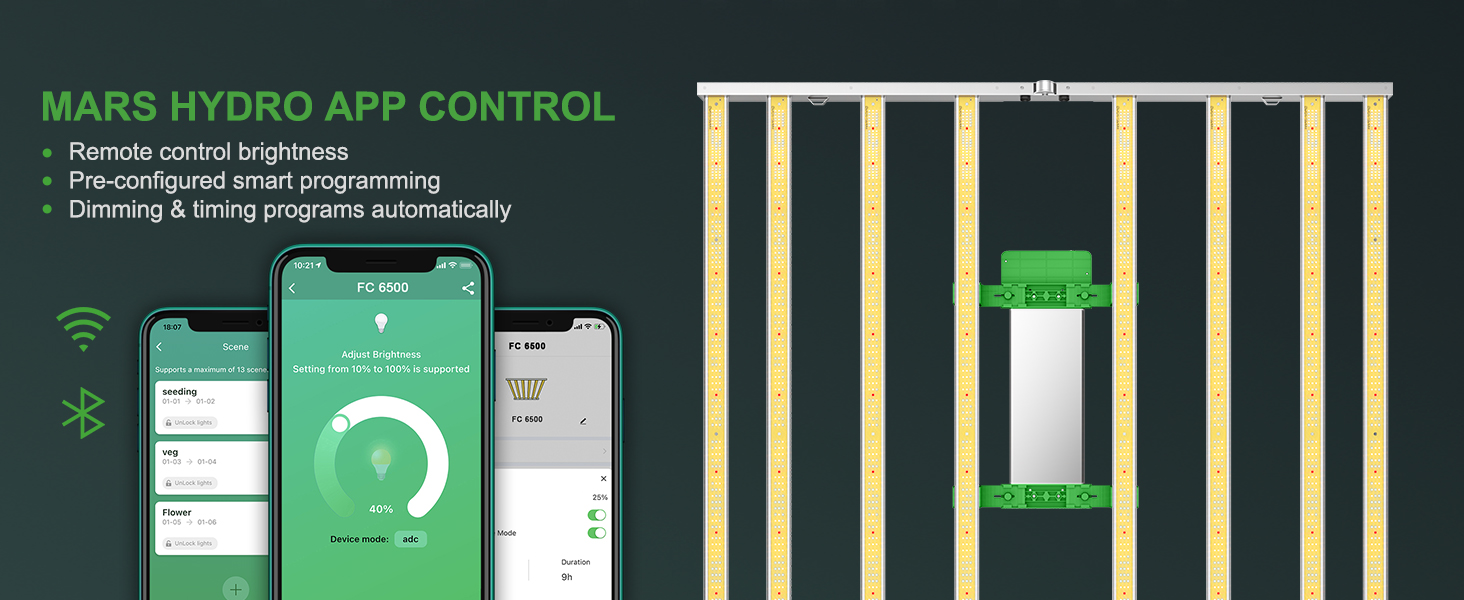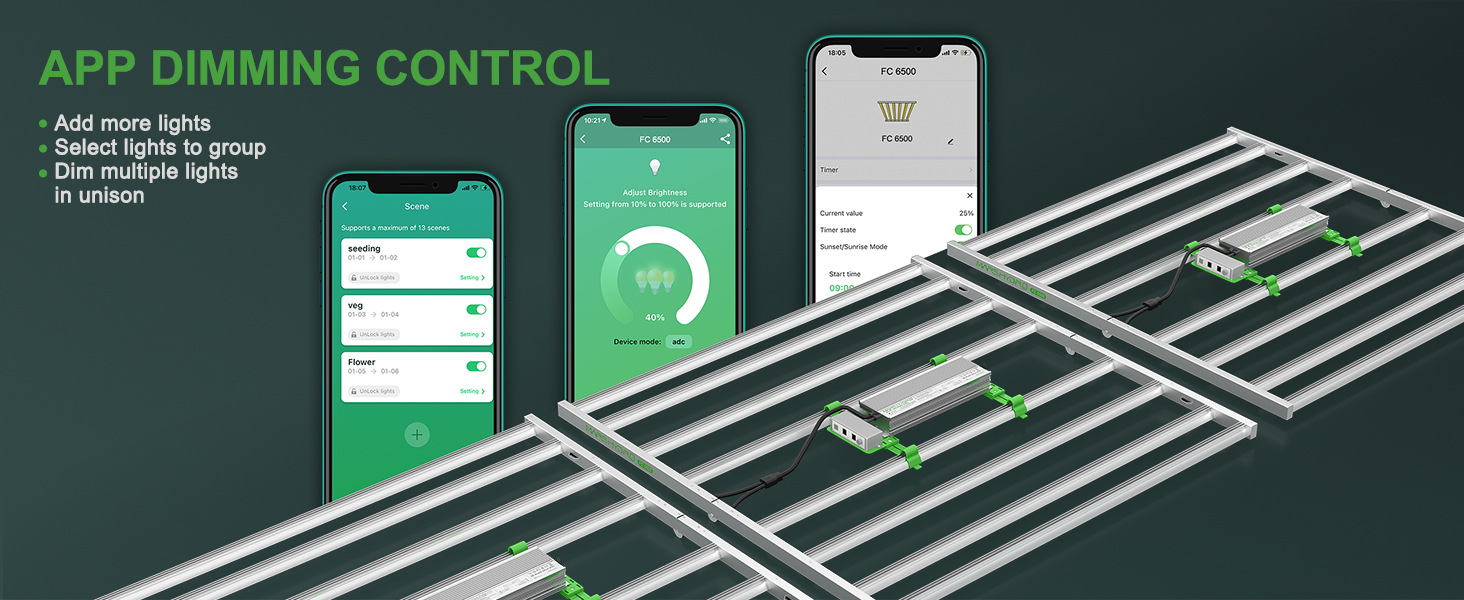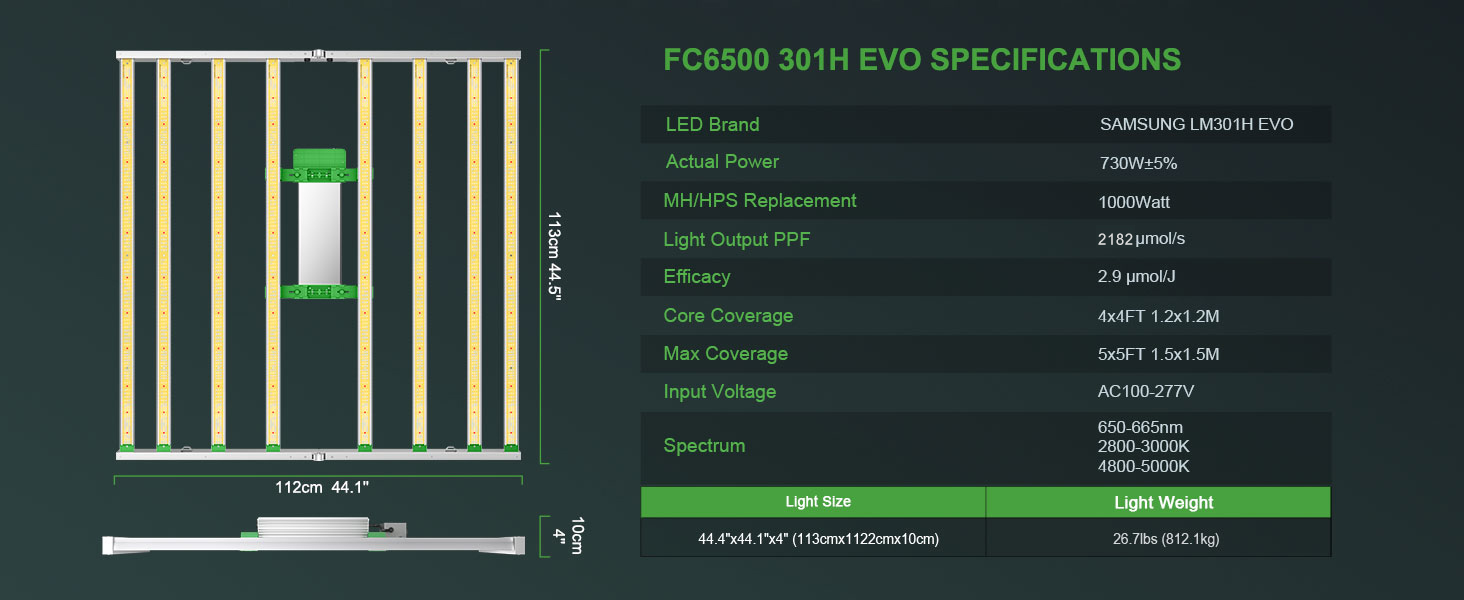 Mars Hydro FC 6500-Evo Samsung LM301H Evo 730W Smart Led Grow Light for Commercial Cultivation

| | |
| --- | --- |
| Veg Footprint | 6' x 6' |
| Flower Footprint | 5' x 5' |
| Power | 730 watts |
| Spectrum | Full |
| Light Output | 2079 umol/s |
| HID/HPS Equivalent | 1200 watts |
| Dimensions | 44.5" x 44" x 4.21" |
| Weight | 28.2 lbs |
| Recommended Height | 8" - 24"  |
| Manufacturer's Warranty | 5 years |
Payment & Security
Your payment information is processed securely. We do not store credit card details nor have access to your credit card information.