Medic Grow Fold-6 Full Cycle LED Grow Light for Indoor Plants

Veg Footprint: 4' X 4'

Flower Footprint: 4' X 4'

Watts: 660W

Spectrum: Full

Warranty: 5 Years
Introducing the Medic Grow Fold-6 Full Cycle 660W LED Indoor Grow Lights for Plants. This powerful grow light provides a coverage area of 4 x 4 ft for both vegetative and flowering stages of plant growth. It is suitable for personal growers using tents or can be chained together with up to 75 fixtures for large-scale commercial operations.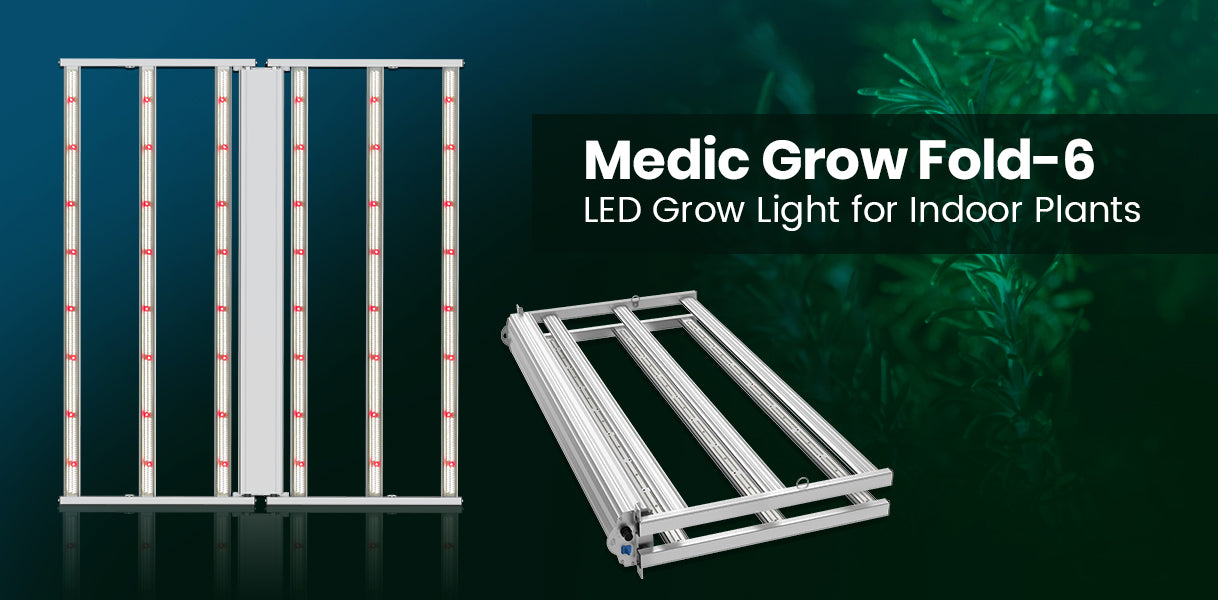 The Fold-6 features a popular design with 6 lighting bars that distribute light evenly across the plant canopy. It offers a V1 full spectrum, accommodating each phase of the plant's growth cycle. With an impressive efficacy of 2.8 µmol/j and a power consumption of up to 660 watts, it ensures high-efficiency operation for optimal growth.
This LED grow light also delivers outstanding PPFD values, measuring 1123 µmol/m2/s at a distance of 12 inches and 845 µmol/m2/s at a distance of 24 inches. These levels provide sufficient light to meet the 20-40 mole per day requirement, promoting enhanced plant yield. Additionally, the Fold-6 is dimmable from 100% down to 40%, allowing easy adjustment of light intensity during the vegetative and flowering phases.

Features of the Medic Grow Fold-6 Full Cycle 660W LED Indoor Grow Lights for Plants:

Utilizes white chips and OSRAM red chips with the highest output for optimal light performance.
Full Spectrum lighting that covers the entire growth cycle of plants, from seedling to flowering.
Achieves high light efficiency with an efficacy of up to 2.8 μmol/J, maximizing energy utilization.
Provides a high PPF (photosynthetic photon flux) of 1848 μmol/s, delivering ample light energy for robust plant growth.
Supports daisy-chaining of up to 75 lights with RJ Signal Cables, allowing for streamlined installations.
Dimmable functionality allows you to adjust the light intensity from OFF to 40%, 60%, 80%, and 100%, adapting to different growth stages and plant requirements.
Power consumption of 660W strikes a balance between performance and energy efficiency.
Features a six-bar design, providing coverage for a 4x4 feet growing area with uniform light distribution.
Easy installation with a 180° foldable design that is plug-and-play, simplifying setup and use.
Default voltage operates at 110-277V, and customization options are available for voltages ranging from 347-480V.

Full Spectrum for Full Cycle Growing: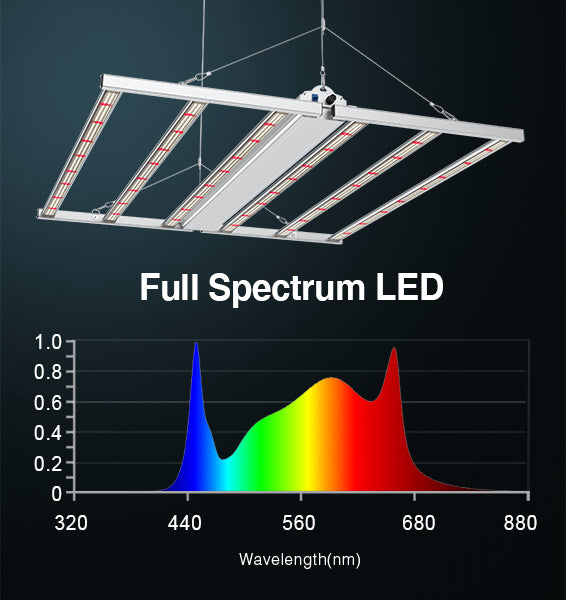 Similar to the Fold-8 Full Spectrum LED grow light, the Fold-6 replicates the spectrum of natural sunlight. It emits a broad and consistent range of wavelengths between 400 to 700nm, which covers the entire plant life cycle. This promotes healthier plant growth, improved yields, and benefits from its energy-efficient design, low heat generation, and even light distribution.
40%-60%-80%-100% On-board Dimmer: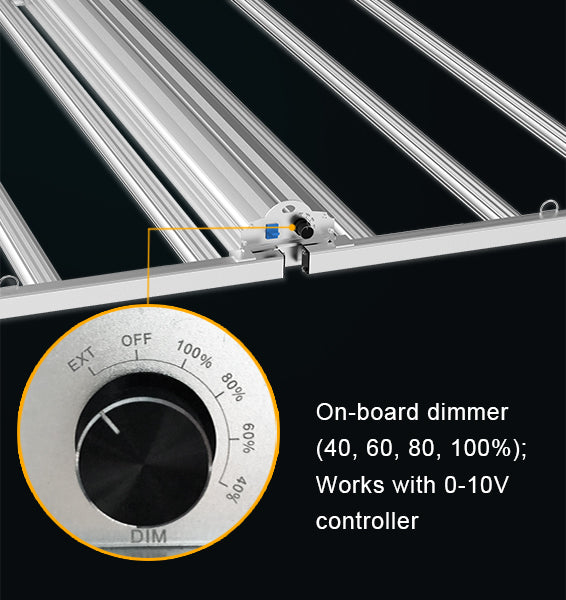 The Fold-6 660W LED grow light is equipped with a four-level dimming knob, allowing you to adjust the brightness according to the specific needs of your plants at different stages of growth. The dimming options range from 40% to 100%. When connecting the Fold-6 light to an external lighting controller, remember to turn the dimming knob to the "EXT" position.
Even PPFD with 6 Bars Design: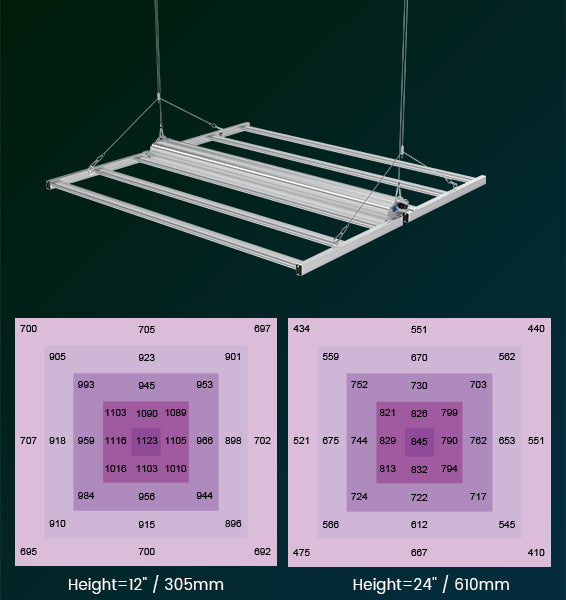 Extensive testing of the Fold-6's PPFD (Photosynthetic Photon Flux Density) was conducted in a 4x4 grow tent. It is important to note that the reflective nature of the tent can enhance PPFD readings throughout the space, particularly in the corners and edges, resulting in consistent and optimal light distribution.

High PPFD at Different Heights: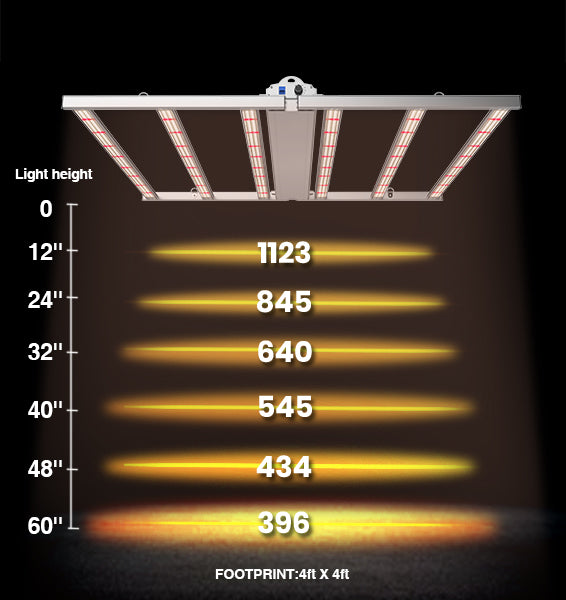 The Medic Grow Fold-6 distance chart provides recommendations for hanging heights during different growth stages. For the seedling stage, we recommend hanging an 18W fluorescent lamp at around 6 inches. During the vegetative stage, the Fold-6 light should be positioned at a height of 30 inches above the plants. For the flowering stage, lowering the light to a distance of 12 inches is advised. These recommendations ensure plants receive appropriate light intensity for each stage of growth.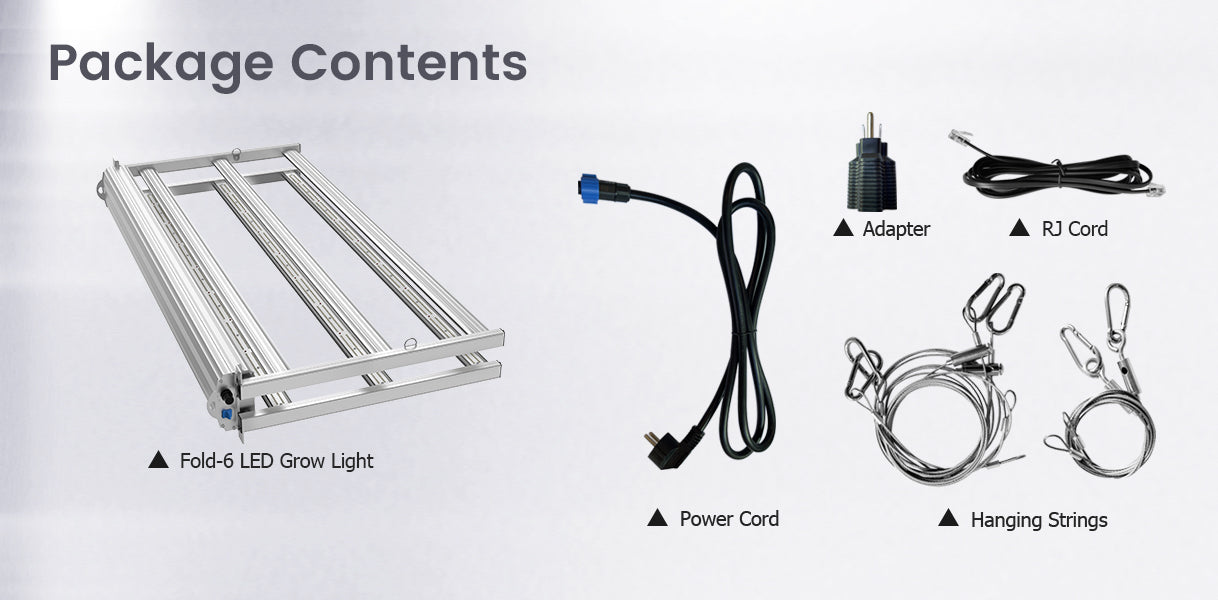 Tech Specs of Medic Grow Fold-6 Full Cycle LED Grow Lights for Indoor Plants
Model
FOLD-6
Spectrum
V1 Full Spectrum
PPF(light output)
1848 μmol/s
Wattage
660 Watts
Efficacy
2.8 μmol/J @277V AC
Coverage
4x4 Feet;
Fixture & Dimensions
43.52"L x 41.93

"

W 

x 3.44

"H

Driver
Designed by us and manufactured by Sosen
Power Cord
6ft long
Voltage

Default: 110-277V AC, 50/60Hz

Customizable: 347-480V AC,50/60Hz

Input Current
5.8A@120 V AC

2.6A@277 V AC

2.1A@347 V AC

Max Operating Temperature
104°F / 40°C
Mounting Height
≥ 6" (15.2cm) Above Canopy
Thermal Management
Passive
Dimming
0-10V Dimmable
Weight
15.87lbs/7.2kg
Life Span
>50,000hours
Warranty
5-Year Warranty
Payment & Security
Your payment information is processed securely. We do not store credit card details nor have access to your credit card information.