Medic Grow Smart-8 Full Spectrum LED Grow Light for Indoor Plants

Veg Footprint: 5' X 5'

Flower Footprint: 4' X 4'

Watts: 760W

Spectrum: Full

Warranty: 5 Years
Make a smart choice with our foldable Smart 8, specifically designed for high PPFD cultivation practices in growing.
The Smart 8 760-watt LED grow light is built with high-quality Sosen drivers and top bin Osram LEDs, creating a full-spectrum light source perfect for both veg and flowering cycles. It covers every phase of growth, from vegetative to flowering, and can effectively illuminate an area of up to 5x5 feet during the flowering stage. With an outstanding PPF of 2136 μmol/s and a photon efficacy of 2.8 μmol/J, it delivers the entire spectrum of light evenly to your plants, providing them with exactly what they need to grow rapidly and thrive.
Equipped with an onboard easy-to-read LCD display, you can quickly and effortlessly check your timing settings, power levels, dimming options, spectrum selection, PPF output, and more. The display features two built-in knobs, with the right one allowing easy dimming from 100% down to 80%, 60%, and 40% intensity without the need for external controllers. The other knob is used to schedule lighting time for your plants, offering options of 6, 12, 14, 16, or 18 hours. In between the two knobs, you'll find the Bloom button, which conveniently switches the spectrum from vegetative (V1) to flowering (F1).
For commercial growers, the Smart 8 can be externally daisy-chained with a Medic Grow lighting controller that provides light timing, dimming (in 1% increments), and temperature control for up to 75 fixtures. Each light has a general life expectancy of 50,000 hours and comes with a 5-year warranty, ensuring durability and peace of mind.
Features and Benefits of Medic Grow Smart-8 Full Spectrum LED Grow Light:
Outstanding efficiency
Full-cycle growing spectrum
760 watts, 2136 μmol/s PPF & 2.8 μmol/J @277 AC
Enhanced 660nm red spectrum for encouraging blooming and fruiting
Even PAR distribution that covers 4' x 4' and 5' x 5' grow tents
Spectrum switchable for veg and flower stages
Built-in timer supporting sunrise and sunset simulation
Instant current display on the LCD screen
Onboard dimming function for easy light intensity adjustment
Fanless design for efficient heat dissipation
Low energy consumption and no heat output
RJ Signal Cable Daisy Chainable for easy connectivity
Plug and play installation
Default voltage of 110-277V, customizable to 347-480V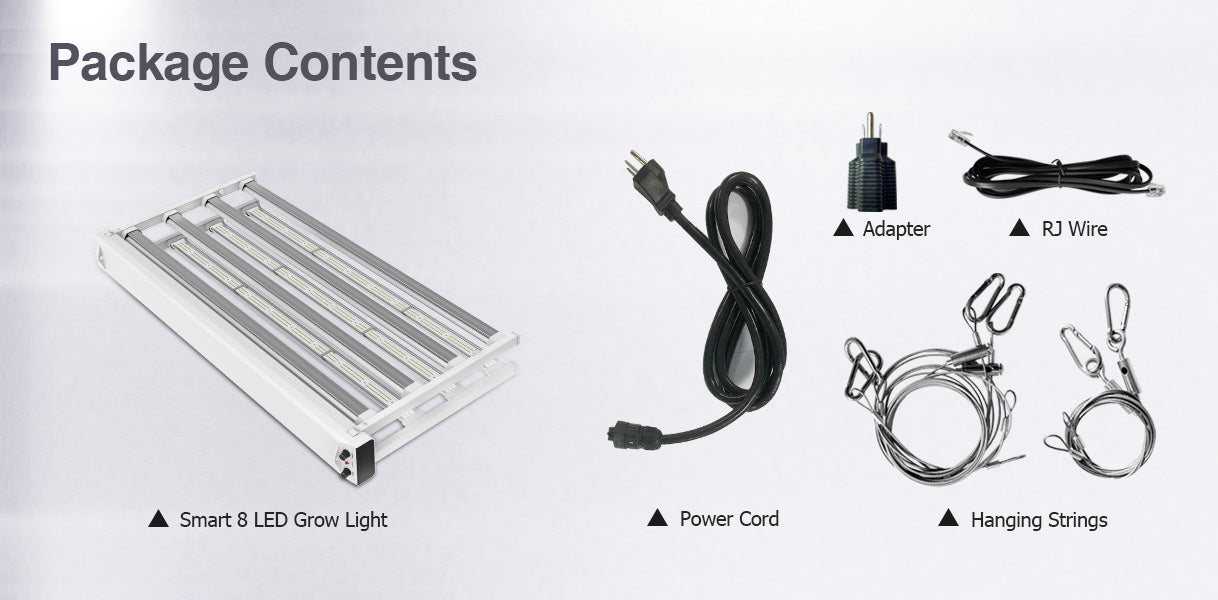 Tech Specs of Medic Grow Smart-8 Full Spectrum LED Grow Light
Model
Smart-8
Spectrum
V1 & F1 Full Spectrum
PPF(light output)

2136

 

μmol/s
Wattage
760 Watt
Efficacy
2.8 μmol/J @277 AC
Coverage
4x4 Feet; 5x5 Feet;
Fixture & Dimensions
47.2"L x 45.6 W
Driver
Designed by us and manufactured by Sosen
Power Cord
6ft long
AC Input Voltage

Default: 110-277V AC, 50/60Hz

Customizable: 347-480V AC,50/60Hz

Max Operating Temperature
95°F / 35°C
Mounting Height
≥ 6" (15.2cm) Above Canopy
Thermal Management
Passive
Dimming
0-10V
Weight
30.86lbs/14kg
Warranty
5-Year Warranty
Payment & Security
Your payment information is processed securely. We do not store credit card details nor have access to your credit card information.