Medic Grow Slim Power 2 Commercial Greenhouse LED Grow Light
Veg Footprint: 6.5' X 4'

Flower Footprint: 6.5' X 4'

Watts: 550W

Spectrum: Full

Warranty: 5 Years
As an exceptional LED grow light for greenhouse applications, the Medic Grow Slim Power 2 is specifically designed to replace 1000-Watt HPS lights, making it ideal for supplemental or primary lighting in vegetable cultivation within greenhouses. This high-quality LED grow light adheres strictly to commercial greenhouse standards and is also a perfect solution for medium to small-scale home growing.
Medic Grow Slim Power 2 Commercial Greenhouse LED Grow Light Highlights:
The Slim Power 2 is a full-cycle LED grow light featuring a broad spectrum and enhanced red light for maximum yields. It consists of 2300 high-quality white LEDs and Osram red LED diodes, providing uniform lighting coverage over a 6.56' x 4' area. The average PPFD value at 6 inches above the canopy is 3271 µmol/m2/s. The light output PPF amounts to approximately 1540 µmol/s, with a light efficacy PPE of 2.8 µmol/J. Remarkably, it only requires 550 watts of power.
This LED grow light is designed as a single bar, with a width of only 5.38 inches, minimizing the shadow effect on greenhouse crops.
Superior Waterproof Performance: Medic Grow Slim Power 2 meets the highest standards for greenhouse lights by being truly waterproof. With an IP67 rating, it can even be immersed in water. The driver, connector sealing to the light, and LED light board are all treated with waterproof technology.
Efficient Heat Dissipation: The entire heat sink of the Slim Power 2 is constructed from a single sheet of aluminum alloy. Most of the heat generated is transferred to the cooling fins, which greatly increases the rate of heat dissipation through air convection. This design eliminates the need for additional fans, resulting in high heat dissipation, lower power consumption, and a noise-free operation.
Key Features of the Slim Power 2 LED Grow Light for Greenhouses:
IP67 Waterproof: The fixture is fully waterproof, allowing it to be washed even while in operation.

Unibody Heat Sink Design: Ensures safety, efficiency, power savings, and eliminates the risk of overheating.

Minimal Shadow Effect: The compact driver and linear design contribute to minimal shadowing on plants.

High Efficacy and PPF: Achieve a high efficacy of 2.8 µmol/J and a peak PPF of up to 1540 µmol/s.

Broad and Enhanced Red F1 Spectrum: Optimizes spectral content and light levels for any crop at any growth stage.

RJ Signal Cable Daisy Chainable: Connect and control up to a maximum of 140 lights with the TSC-2 Controller.

Power Cord Chainable: Control three fixtures using a single power adaptor.

Easy Installation: The compact driver and linear design enable daisy chaining from one fixture to another.

Wide Voltage Range: The default voltage is 110-277V, with customization options available for 347-480V.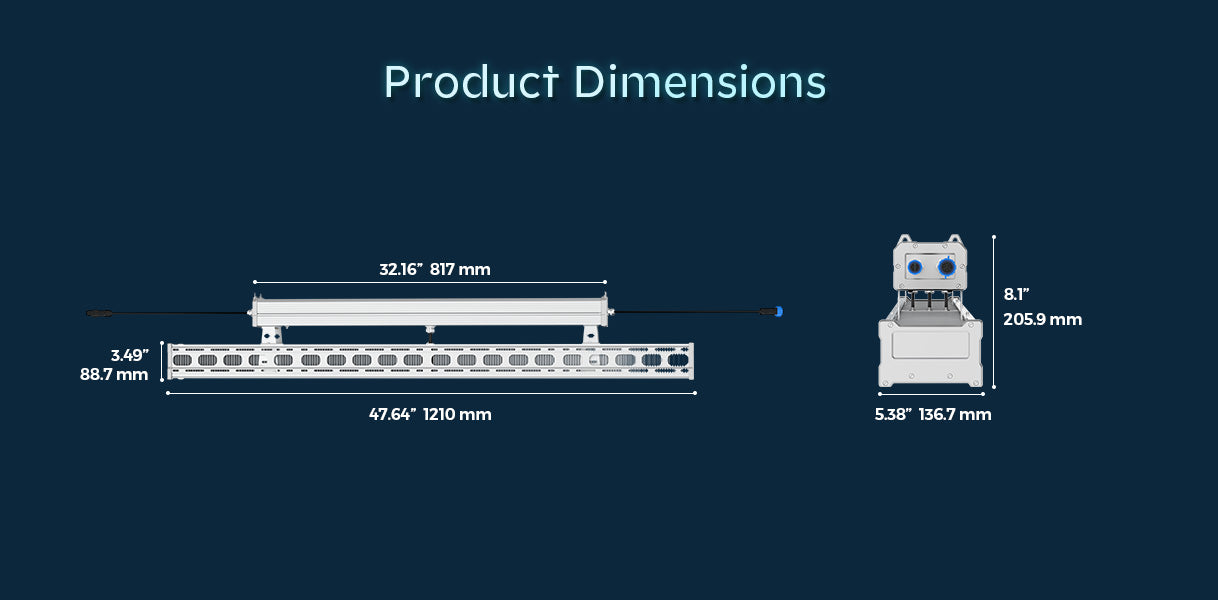 Tech Specs of Medic Grow Slim Power 2 Commercial Greenhouse LED Grow Lights
Model No.
Slim Power 2
Spectrum
F1
PPF(light output)
1540 μmol/s
Wattage
550 Watts ± 5%
Efficacy
2.8 μmol/J @277 AC
Best Coverage
6.56 x 4 Feet
Dimming
0-10V by Wire
Daisy Chain
3 Unit for Power Connection
100 Units Controlled by GLC-1 through Wire(Required Adaptable Cable)
140 Units Controlled by TSC-2 through Wire

(Required Adaptable Cable)

AC Input Voltage

Default: 110-277V AC, 50/60Hz

Customizable: 347-480V AC,50/60Hz

AC Input Current
5.1 A (@120 V AC)
2.2 A (@277 V AC)
Mounting Height
≥ 3FT (90cm)Above the Canopy
Waterproof Grade
IP67
Thermal Management
Unibody Cooling Fin Construction
Fixture Dimensions
47.64'' x 5.38" x 8.1"
Net Weight
27.19 lbs / 12.33 kg
Max Operating Temperature
104°F / 40°C
Life Span
>50,000hours
Warranty
5-Year Warranty
Payment & Security
Your payment information is processed securely. We do not store credit card details nor have access to your credit card information.